This has been a year like no other. The COVID-19 pandemic has become central to our work at Trillium Health Partners (THP). While the pandemic had an impact on communities and hospitals across this province, the Region of Peel and THP were among the hardest hit. Yet, in the face of the most challenging year in our history, we are proud to say that our teams of physicians, nurses, allied health professionals, and non-clinical staff consistently stepped up to deliver high quality and safe care. They ensured we were able to continue to care for the community we serve, while expertly navigating the new safety protocols, lockdowns, waves of COVID-19 patients, and more. Both inside and outside the hospital, the strength of our partnerships and the unbreakable spirit of this community, lifted us and pushed us to keep going.

Read More

Throughout the year, THP worked with local, regional and provincial levels of government to guide a coordinated emergency response and champion the health care needs of the community. We supported long-term care homes during the peak of the first wave to help protect residents and staff. We established two COVID-19 assessment centres, including a drive-thru at our Credit Valley Hospital site, to support testing. We continue to work closely with EMS and hospital partners across the province to transfer patients, where appropriate, to ensure we have the capacity to care for those patients who need us most. Alongside the Region of Peel, Mississauga Fire Fighters, and the University of Toronto Mississauga, amongst others, we have been working hard to get vaccines into arms. We have also been able to support the health care needs of the community by working collaboratively with Mississauga Ontario Health Team partners in primary care, long-term and palliative care, mental health, and community support services.

In turn, the response from the community has been nothing short of inspiring. It has lifted our spirits by volunteering and offering gifts of support – be it donations of food, equipment, or money – at a time when many faced their own financial uncertainties. Not to mention countless messages of gratitude from school children and the community that gave us the energy we needed to keep going on the hardest days. Thank you for your unwavering support in all forms – protective equipment, acts of kindness, words of encouragement, and vital philanthropic donations. We have continued to provide exceptional care to this community thanks to the generous support of individuals and organizations across this region who stepped up to donate a historic $72.8 million.

Key to our Strategic Plan is to implement modern health care tools to serve you. With the launch of Epic, our single electronic health record, and the expanded use of virtual care, we have standardized and enhanced the care experience across all sites, using real-time information to aid our fight against COVID-19. This has created a safer and higher quality service.

Now more than ever, and with the support of our partners, we are determined to continue to find new ways to deliver care that works for everyone. As we look forward to a post-COVID world, we are energized with a renewed sense of purpose to create a new kind of health care for a healthier community. We have the courage to take bold and innovative steps to do things differently, because there is no going back to the way things were before. And this work has already begun.

We have renewed our commitment to creating an inclusive health care system that works for all people. We completed both a hospital demographic survey, and in partnership with the Mississauga Ontario Health Team, began to examine the health status data of this community to better understand barriers to access that the pandemic has exacerbated. In addition, we have a renewed commitment to anti-black racism, diversity and inclusion. We are adding much needed long-term care capacity by building two new homes as part of the province's Accelerated Build Pilot Program. We received commitment from the Government of Ontario to expand the Queensway Health Centre and fully redevelop the Mississauga Hospital to meet the growing health care needs of the community. Our partners at the CAN Health Network continue to launch commercialization projects across the country to connect Canadian companies with frontline organizations to respond to pressing health care challenges, including COVID-19.

The effects of the pandemic will be felt in this community for the next few years as we work to clear the backlog of postponed surgeries, diagnostic imaging and screening tests, and restore health care services to pre-pandemic levels. We will also need to address the mental health impacts on health care workers and the entire community. We have already started to plan for this work.

A strong recovery is possible with the dedicated support of our frontline teams, Board of Directors, community partners, patients, families, and donors. As we look to the future, THP is pleased to welcome three new members to our Board and we thank our outgoing members for their leadership and support.

To the incredible staff, professional staff and learners at THP, thank you for the incredible hard work you have done and the sacrifices you have made this past year. You have lived our values of courage, excellence and compassion each and every day. You have truly demonstrated what it means to be Better Together.


Michelle DiEmanuele
President and CEO, Trillium Health Partners

Michele Darling
Board Chair, Trillium Health Partners

Caroline Riseboro
President and CEO, Trillium Health Partners Foundation

Shihab Zubair
Board Chair, Trillium Health Partners Foundation
In the face of what has been an incredibly challenging and trying year in the ongoing fight against COVID-19, our inter-professional teams of nurses, allied health professionals, and physicians have continuously answered the call and gone above and beyond on behalf of patients, families, the community, and one another. We are so grateful for their courage, dedication and perseverance and we recognize the sacrifices they have made, and continue to make, to ensure patients are able to receive the care they need.

Read More

As we reflect on the challenges and triumphs we have seen over the year working against COVID-19, we'd like to thank our staff, professional staff, and learners for their perseverance and humanity. They have taken on new assignments in assessment centres, COVID-19 units and vaccine clinics, and worked in unfamiliar environments to support colleagues. They stood in for family members when visiting wasn't possible, providing comfort and support to patients, as well as each other. In the midst of it all, our teams successfully launched Epic, our single electronic health record to improve and modernize how we deliver care to help shape a healthier tomorrow. This event was many years in the making and has enabled us to create a consistent and seamless care experience across our sites while using real-time data to respond to COVID-19.

We are incredibly grateful for the unwavering dedication of our teams in the fight against the COVID-19 pandemic. They have lived THP's values of compassion, excellence and courage every single day. This year more than ever, we have truly exemplified what it means to be Better Together.


Dr. Dante Morra
Chief of Staff, Trillium Health Partners

Kathryn Hayward-Murray
Chief Nursing Executive and Executive Vice President of Quality, Risk, Practice and Performance, Trillium Health Partners
The Community We Serve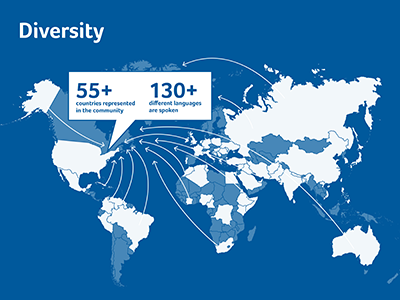 Diversity
This community is one of the most diverse in the world. More than 55 nationalities and 130 languages are represented here.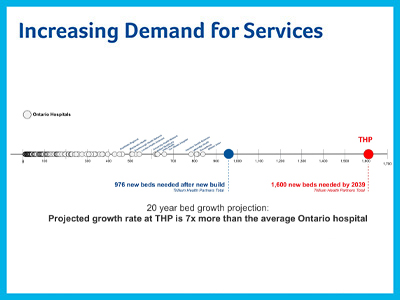 Demand
No hospital in the province will experience more demand for services than THP over the next 20 years.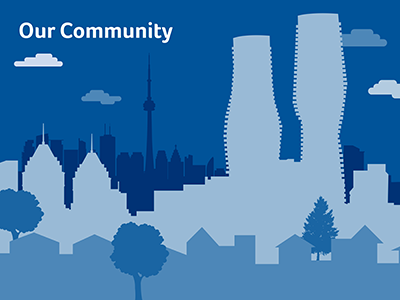 Our Community
THP serves residents of Mississauga and West Toronto. The community is home to more than a million people.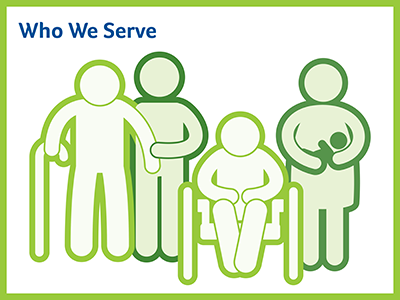 Who We Serve
By 2041, the community we serve will grow by about a million new residents, with big increases in people under 18 and seniors over 65.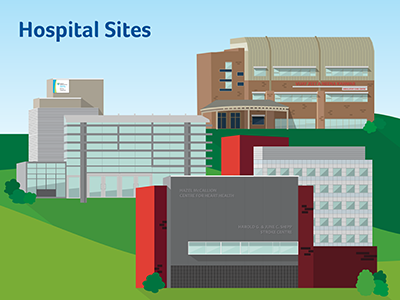 Our Sites
THP has three main hospital sites: Mississauga Hospital, Credit Valley Hospital and Queensway Health Centre.
Growth
More than 18,000 newcomers arrive in our community each year.
THP's is continuing to respond to COVID-19 in one of the hardest hit regions in Ontario. Over the past year, with the support of our partners, we have readjusted and refocused our response to meet the unique challenges of each wave so we can care for the community during this evolving crisis. We are proud of the work we have done, and continue to do, to support the health care needs of the community during this unprecedented time.
Our COVID-19 response plan is strong and anchored in our goals to provide high-quality, accessible, and sustainable care. As we began to see greater numbers of COVID-19 patients, we diverted non-essential and non-acute care away from the hospital to protect our existing capacity. While our pandemic response was a central focus this past year we never lost sight of our commitment to the overall health of the community. We continued to deliver exemplary care across our inpatient and outpatient programs in new and innovative ways, including the expanded use of virtual tools.
We worked to safeguard our ability to deliver care by performing only the most urgent surgeries and diagnostic imaging tests. This dramatic service reduction has left THP with the largest surgical debt in Ontario. We also saw an overall decline in emergency department visits and inpatient admissions as people delayed coming to the hospital. These patients were often sicker and needed a more acute level of care when we saw them.
As we prepared for an influx of COVID-19 patients, we took additional measures to build capacity by increasing our budgeted beds to 1,397 and using 121 newly funded beds to create additional care spaces in our orthopaedic, medicine, critical care, and mental health units. To ensure we were able to care for a mix of patients we converted some areas to support different functions, such as dedicating medicine units for COVID-19 patients and repurposing rehab spaces for patients needing other kinds of care. As COVID-19 cases surged in the community, we opened our temporary Pandemic Response Unit (PRU) at the Mississauga Hospital so we could continue to safely deliver care for patients without overwhelming our permanent spaces. With the support of hospital and EMS partners, we transferred COVID-19 patients to partner hospitals across Ontario to protect our ICU capacity.
Our dedicated teams of physicians, nurses, allied health professionals and enabling staff rose to the challenge as we pivoted hospital operations to respond to the pandemic crisis. We upskilled and redeployed staff to areas of the hospital where help was needed most while adding nearly 1,100 new staff to support our pandemic response and regular operations. Infection prevention and control (IPAC) best practices were hardwired throughout the hospital through a comprehensive safety plan designed to reduce spread of the virus to patients, families, and staff.
While necessary operational changes were made, caring for patients remained our priority. Members of the care team often replaced family members as we implemented visitor restrictions for safety. They provided emotional comfort and support, often spending the precious last moments with patients at the end-of-life. Over the past year 279 patients were lost to COVID-19 at THP, including a staff member, and every Friday we honoured their memories by lowering the flag to half-mast.
We supported some of the most vulnerable residents in the community by connecting with 19 long-term care (LTC) homes in THP's catchment to support COVID preparedness and response. This deeply meaningful work included creating regional assessment support teams aimed at preventing and containing rapidly escalating COVID-19 outbreaks in LTC through partnerships with key local and provincial stakeholders. We also provided direct support including temporary management over certain LTC homes, virtual visits with THP specialists, staffing, COVID-19 testing for residents and workers, return-to-work clearance, and coaching on IPAC best practices and PPE use. We will continue to work with our partners to strengthen this sector and increase access to LTC in Mississauga with the construction of two new LTC homes.
COVID-19 testing remained an important part of our pandemic response. We expanded capacity at our hospital-based assessment centres and worked with partners to increase access to testing in the community. We purchased new lab equipment, modified staffing, and enhanced our processes to support increased testing volumes.
As respected health care leaders, we participated in the emergency response in the Region of Peel by collaborating with local health system partners and providing guidance at provincial tables, including the Ontario COVID-19 Advisory Science Table. We advocated for financial supports for our frontline health care workers so these essential workers were well supported and able to continue the fight.
Read More
When vaccines became available, we stepped up to administer some of the first COVID-19 vaccines in the Region of Peel. The delivery of vaccines gave the community, and the world, a renewed hope. Our partnership with the Region of Peel and the University of Toronto Mississauga enabled us to open two mass vaccination clinics that can deliver up to 5,000 vaccines per day. We will continue to adjust our vaccination plans with increased supply and direction from health care authorities.
This year challenged us beyond imagination and as we cared for the community, our teams also found ways to support each other. Peer support groups, mindfulness sessions, and access to mental health services through our Employee and Family Assistance Program has helped strengthen the resiliency of our people.
Moments of kindness and generosity also gave us strength. Colourful lawn signs expressing gratitude popped up in front of our hospitals. Donations of food from local businesses helped keep our hard working teams nourished. And drive-by siren salutes from our first responder partners came at the times when we needed them most.
Throughout the pandemic, we found strength in our partnerships with the community. The care we provided aligned with our values of compassion, excellence, and courage. Our partnerships will become increasingly important as we recover and navigate the significant impacts of COVID-19 in the months and years to come. We will approach each new challenge with the same resolve and commitment to partnership we've embraced over the past year. The health and safety of patients, our people, and the community remains our top priority. Your hospital has continued to be a safe place to receive care, and it will continue to be. We are always here when you need us most.
Click here to see a year-over-year comparison of our patient volumes for regular and active COVID-19 years.
A Year Like No Other
Our community partners share how the unbreakable spirit of the community lifted and pushed us to keep going as we respond to the COVID-19 pandemic
View on youTube
Financials
Trillium Health Partners (THP) is pleased to report that after 12 months of delivering access to safe and high quality patient care to this community during the COVID-19 pandemic, we have ended the fiscal year (April 1, 2020 - March 31, 2021) with balanced results of operation.
Over this past year, THP has faced unprecedented challenges operating in a COVID-19 hot spot. This period has required strategic and nimble leadership, and has also presented significant changes and challenges to our operating platform. Staff, professional staff, learners, the THP Foundation, community and government partners showed exceptional courage, teamwork, and dedication over the past year.
THP finished the year with a modest surplus. This was achieved through rigorous financial management, operations planning, and execution as well as working closely with the government to address COVID-19 pressures including lost revenues, the increased costs of care delivery, and introduction of new services such as COVID-19 testing and vaccine delivery.
Through prudent stewardship of resources we have made important capital investments to support the health of people in the community including a new Magnetic Resonance Imaging (MRI) machine, a cardiac catheterization lab, new patient care beds, and critical COVID-19 response tools such as the temporary Pandemic Response Unit (PRU), ventilators, and IV pumps. We also completed the successful implementation of Epic, our single hospital information system, a critical investment in quality, access and sustainability for the future.
Looking to the year ahead, we will continue to advance our transformational work including master plan projects and our accelerated long-term care home build to expand services for our growing community. We will also continue to respond to the pandemic and provide much needed services during these unprecedented times while ensuring the health and safety of our people, patients and the community as we continue to build a new kind of health care for a healthier community.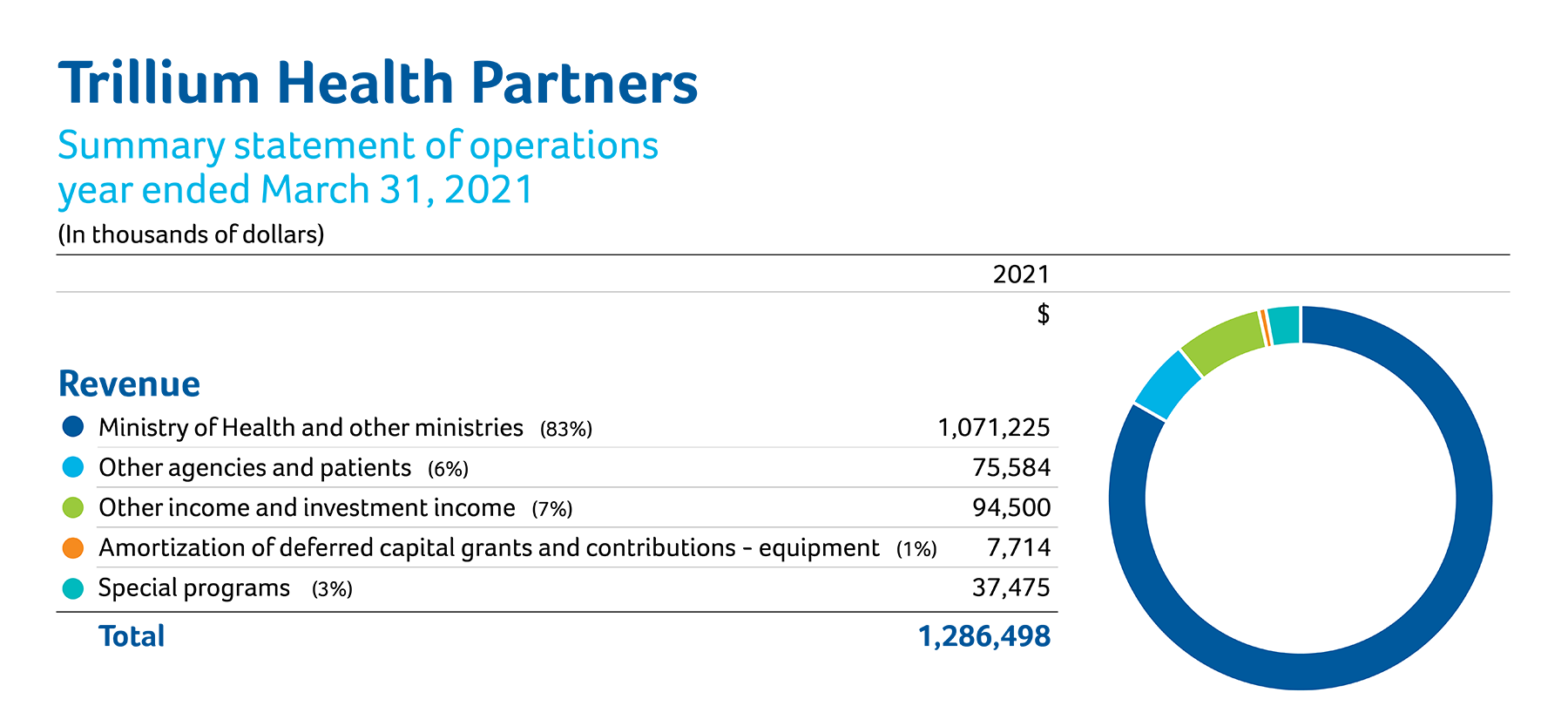 Full audited financial statements are available at this link, or by calling Communications and Public Affairs at 905-848-7580 ext. 1636
For more information on Innovation and Research
The Institute for Better Health is a key enabler for shaping a new kind of health care for a healthier community through the application of scientific expertise, innovative thinking and partnerships.
Institute for Better Health
Thanks to our Community and Donors
Working with our community and donors, Trillium Health Partners Foundation raises the critical funds needed to address the highest priority needs of Trillium Health Partners.
Trillium Health Partners Foundation