A new kind of health care for a healthier community. It's been our focus since Trillium Health Partners came together as a new organization over eight years ago. Discovering, innovating, transforming – reinventing health care. Finding new ways to deliver care that works for everyone. It's the essence of our 10-year Strategic Plan.

Read More

We know that over the next 20 years, no hospital in this province will experience more demand for its services than THP. Which is why we continue to build capacity inside and outside the hospital walls to reduce wait times and improve access to care. Throughout the 2019-20 year, we had been preparing our organization for transformation. And as Canada's largest hospital it was our busiest year yet, with over 1.75 million patient visits. Even amid this growing pressure, we remained focused on delivering high quality care today, and working together to shape a healthier tomorrow.

Our ability to change and transform has never been tested more than at the end of this fiscal year, when we were faced with a global health crisis – the COVID-19 pandemic. This extraordinary challenge tested our ability to respond and transform, and meant rethinking and reorganizing how we deliver patient care. And it reinforced our plan to continue to rethink health care, and have the courage and willingness to change. And while this exceptional time has been extremely challenging, heartbreaking for many families, and tested our resilience, it does not diminish the accomplishments of the past year:

2019-20 ACCOMPLISHMENTS

DELIVERING HIGH QUALITY CARE & EXCEPTIONAL EXPERIENCES

Opened three units at the Reactivation Care Centre (Humber River Hospital's Church St. site), adding 69 beds of capacity, to provide specialized care and support for patients no longer requiring acute medical care, with the goal of improving health outcomes and patient experience, and creating more space within the hospital to care for our sickest patients.
Invested in high quality care through OneTHP – a new hospital information system – that will standardize the care experience across all sites and improve communication and coordination of care between patients, families, staff and providers.
Increased care for the critically ill through four additional beds in the ICU

PARTNERING FOR BETTER HEALTH OUTCOMES

Announced the location of a new health centre in partnership with Heart House Hospice that will improve access to long-term and hospice palliative care for the people in Mississauga. This development will include the first residential hospice in Mississauga.
One of the community partners to launch Project NOW – a program that aims to end child and youth suicide in the City of Mississauga and Peel Region by 2029.

SHAPING A HEALTHIER TOMORROW

Working closely with our government and community partners on our plan to expand and modernize our existing hospitals through a major capital redevelopment project at Mississauga Hospital and Queensway Health Centre to meet the community's health care needs for years to come.
THP is a founding partner of the Mississauga Ontario Health Team (M-OHT), the first of 24 teams to implement a new model of delivering health care that better connects patients and providers in their communities to improve patient outcomes.
Launched the CANHealth Network initiative so THP and other health care organizations in Canada will be connected to medical technology companies to address health care challenges.

The accomplishments of the past year, including the response to the global pandemic crisis, were only possible with the unwavering commitment, dedication and flexibility of our people. The heroic efforts of our health care workers highlights the compassion, excellence and courage they bring to work every day, working tirelessly to keep patients and this community safe, even among the most challenging and uncertain times.

To our government and community partners, patients, donors, families and the community – thank you for your relentless support. We can only do the work in here because of what you're doing out there. Like staying home. Washing your hands. Practicing physical distancing. Supporting our people with PPE, food, and critical philanthropic donations. Thank you.

We have always said we can't do it alone. We are Better Together. Even as we adjust to the new pandemic reality. We will get through this together. And we will continue to evolve and change together, and redesign health care so that it works for everybody.

Together, there is no limit to what we can achieve.
The Community We Serve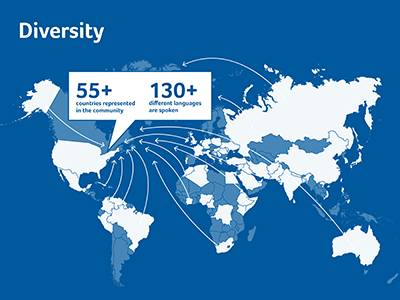 Diversity
This community is one of the most diverse in the world. More than 55 nationalities and 130 languages are represented here.
Demand
No hospital in the province will experience more demand for services than THP over the next 20 years.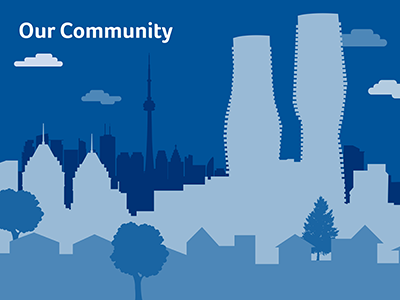 Our Community
THP serves residents of Mississauga and West Toronto. The community is home to more than a million people.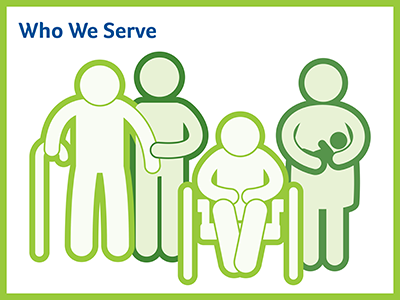 Who We Serve
By 2041, the community we serve will grow by about a million new residents, with big increases in people under 18 and seniors over 65.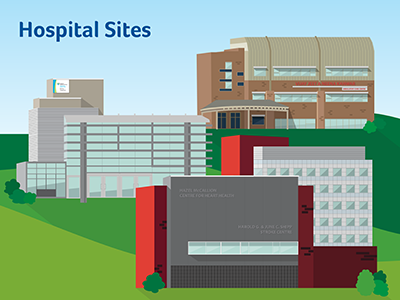 Our Sites
THP has three main hospital sites: Mississauga Hospital, Credit Valley Hospital and Queensway Health Centre.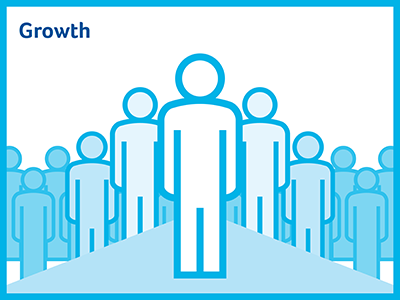 Growth
More than 18,000 newcomers arrive in our community each year.
The highly-trained staff at THP care for respiratory illnesses every day and are prepared for communicable diseases such as COVID-19. With news of the virus spreading across the globe, THP ensured its pandemic response plan was in place and the organization was ready to care for the community during this crisis. Despite these preparations, it became clear very quickly that these were unprecedented times, like nothing we had ever seen before. Our teams swiftly rallied together and rose to the challenge, tirelessly caring for our most vulnerable. This rapidly changing crisis meant we had to evolve and respond quickly, too – reorganizing and reimagining how we provided care so we could be there for the community when it needed us most.
In the beginning, we readied the hospital for an influx of COVID-19 patients, postponing all non-essential services and elective surgeries, and transitioning to virtual care where possible. We added more resources to care for people who were critically ill, and created dedicated space to care for those with COVID-19. We also added 100 new inpatient beds at our Queensway Health Centre site for patients who were stable and did not have COVID-19. Dedicated units were established to cohort COVID-19 patients, and a pandemic response unit was built to care for up to 80 COVID-19 patients in the event of a surge of coronavirus cases. We also had to rethink how we accessed and used equipment and tools to ensure an adequate and sustainable supply.
A number of precautions were put in place to minimize the risk of transmitting the virus, including screening of patients and staff, physical distancing, and enhancing the frequency and scope of cleaning. Virtual care also enabled patients to safely access the specialized services they needed. A temporary no visitor policy reduced the risk of transmission for patients and staff, and a virtual connection program allowed patients to stay in contact with families and loved ones. We established a dedicated Airway Team, available 24/7 to fight COVID-19 and protect staff when a patient requires intubation. This team skillfully minimizes exposure for staff and other patients, performing the high-risk procedure quickly and safely. Three Assessment Centres were established to support testing, improve patient flow in the Emergency Departments and reduce the risk of transmission of the virus. We supported our people through training, wellness supports and recognition, and partnered to support seniors in long-term care.
As the pandemic continues to change and evolve, we will keep adapting and rethinking how to deliver care in a pandemic reality. And many of these changes will likely become part of ongoing hospital operations. We will continue to work closely with our government and health authorities to respond to the pandemic as the situation moves forward. Throughout this time our top priority remains the health and safety of our patients, our people and the community. Even during the pandemic, your hospital is safe to care for you – always here when you need it most.
We will get through this – together.
Financials
Trillium Health Partners (THP) is pleased to report that after 12 months of delivering high quality, exceptional patient care, we have ended the fiscal year (April 1, 2019 - March 31, 2020) with balanced results of operation.
This year marks the first full year of our strategic plan, which sets a course for the next 10 years and lays out the priorities we will focus on to get there. As we continue to face growing demand for service, we remain committed to delivering high quality, accessible and sustainable care.
The end of this fiscal year marked the start of THP's response to the COVID-19 pandemic. This has been an unprecedented time that required strategic and nimble leadership and presented significant changes and challenges to our operating platform. Our staff, professional staff, volunteers and THP Foundation showed exceptional courage, commitment and dedication over the past year.
Through rigorous financial management, operations planning and execution, and successfully advocating for additional government funding, THP finished the year with a modest surplus. Through prudent stewardship of resources we have made important capital investments some of which include a new Magnetic Resonance Imaging machine, a Bi-Plane Angio Suite, a Picture Archiving and Communication System, the opening of 4 new beds in our Intensive Care Unit, and Roof repairs and replacements.
Looking to the year ahead, we will continue to advance our transformational major projects, with the launch of our new Hospital Information System, and our master plan projects to expand services for our growing community. We will also continue to respond providing services to our community during these unprecedented times while ensuring the health and safety of our people, patients and the community as we continue to build a new kind of health care for a healthier community.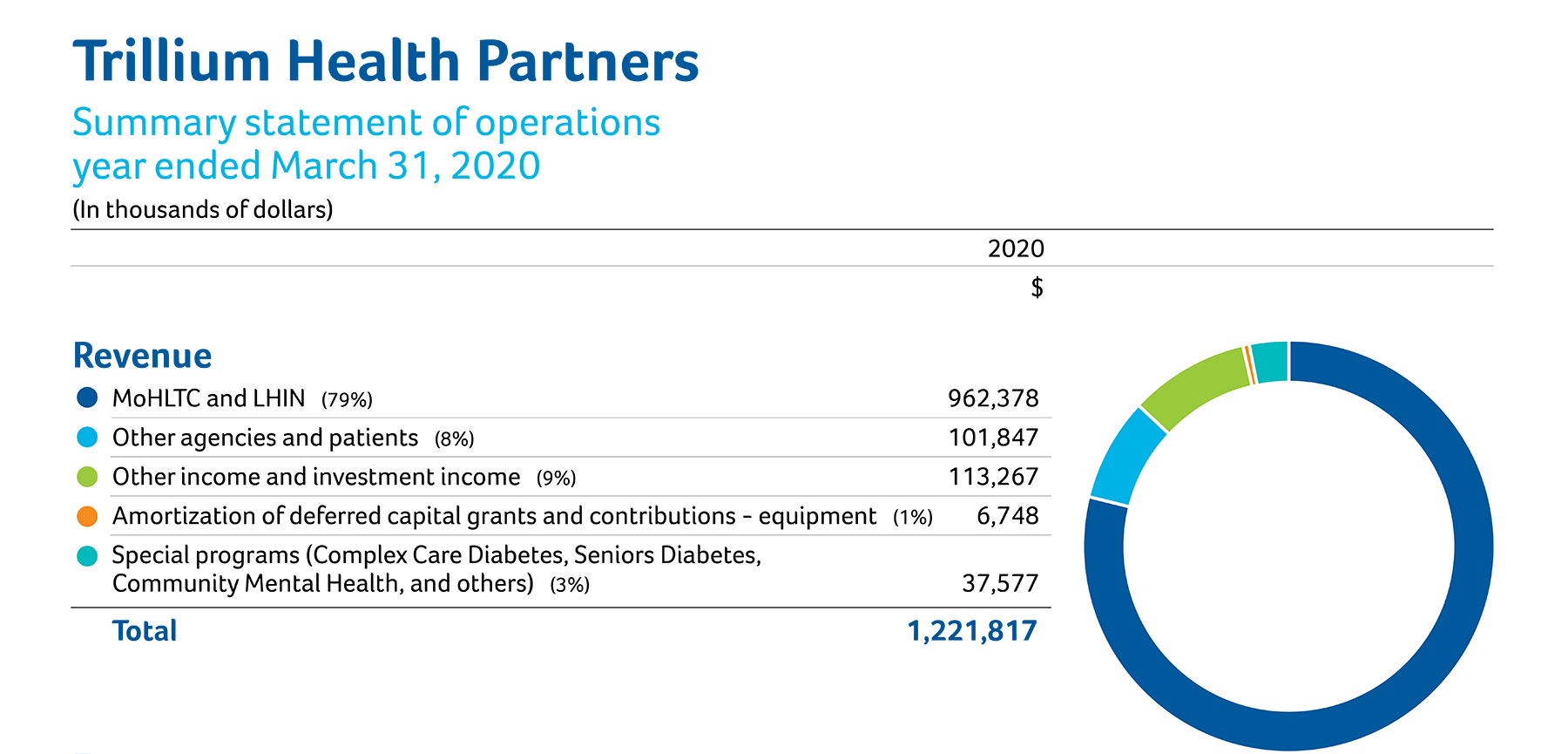 Full audited financial statements are available at this link, or by calling Communications and Public Affairs at 905-848-7580 ext. 1636
For more information on Innovation and Research
The Institute for Better Health is a key enabler for shaping a new kind of health care for a healthier community through the application of scientific expertise, innovative thinking and partnerships.
Institute for Better Health
Thanks to our Community and Donors
Working with our community and donors, Trillium Health Partners Foundation raises the critical funds needed to address the highest priority needs of Trillium Health Partners.
Trillium Health Partners Foundation